Our good friend Jane Knight at Bear Pond Books in Montpelier has done it again! Here is her list of recommended children's and young adult books for this holiday season.
Gift Ideas
You've all asked for more Harry Potter "stuff" and this is the year for that! British artist Jim Kay has been commissioned to illustrate all seven books in the series and I say HOORAY to that. This book is a beautiful introduction for a first time reader and will make a devoted fan squeal with delight. This is a hefty tome and Kay's illustrations are timeless, capturing the magical, comical and dark aspects of the story in great detail. Harry Potter and the Sorcerer's Stone: The Illustrated Edition by J.K. Rowling. Illustrated by Jim Kay
Another keepsake book, but this one is for our Little House fans.
The authors discuss how Laura Ingalls Wilder's real life was different from her stories, and it also focuses on her adult life and how she came to write the Little House series. In addition, it includes one chapter for each of Laura's nine Little House books, exploring in detail the stories, houses, landscapes, journeys, foods, activities, and crafts. Maps, family trees, photographs, and a timeline trace the history of Laura and her family. This is meticulously researched and it is lovingly written. For kids and adults alike. The World of Little House by Carolyn Strom Collins and Christina Wyss Eriksson
Vermont author/all-around Renaissance guy David Macaulay has published a new book for kids called How Machines Work: Zoo Break! Follow the mad antics of Sloth and his sidekick Sengi as they try to find their way out of the zoo with the help of simple machines. Their efforts are brought to life through novelty elements including pop-ups, pull-outs, and lift-the-flaps, allowing readers to explore in greater depth how and why machines work. Do Sloth and Sengi succeed? Inquiring, curious minds (especially ages 6 and up) will want to know!How Machines Work: Zoo Break by David Macaulay
New Picture Books
The picture books we are most excited to delight you with are homegrown. Vermont artists and sheep farmers Jennifer & John Churchman have had a very busy month– from Kickstarting their first children's book into being using John's photographic skills, Jennifer's design skills and their own farm personalities, to signing a multi-book d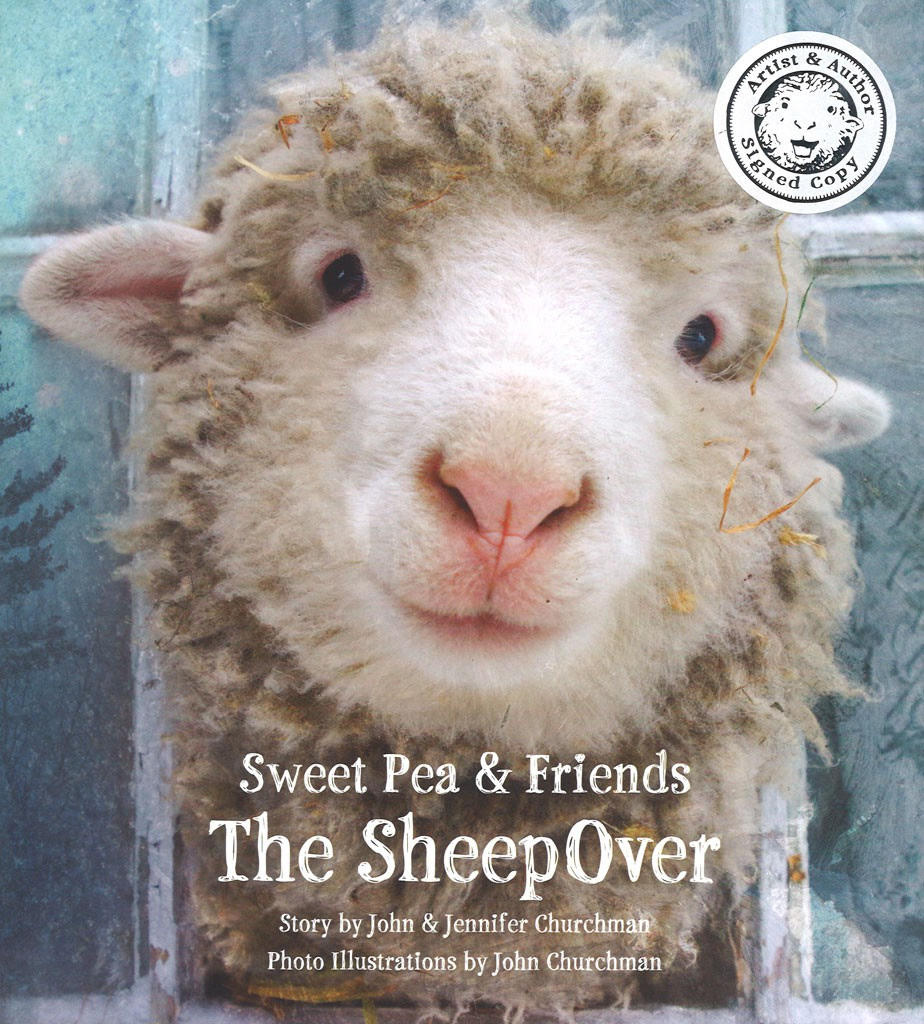 eal with huge publishing house, Hachette. These folks know how to create a picture book. The Sheepover combines a sweet farm tale with photographic artistry to magical effect. Sweetpea and Friends: The Sheepover by Jennifer and John Churchman
Adding to their previous success with boisterous, energetic books about big, loud things like garbage trucks (I Stink!) and the T-Rex (I'm Bad!), Kate and Jim McMullan bring us an equally fun trip with a zamboni in their new picture book called I'm Cool!. The name of the game with the McMullans is word play, making reading this aloud a truly active experience. This is another ride all young readers will be more than willing to take. I'm Cool! by Kate and Jim McMullan
The picture book that wins for most heartwarming tale tells the true story behind the bear called Winnie-the-Pooh. Finding Winnie is written by the real life great granddaughter of Harry Colebourn, the veterinarian and WWI soldier who rescued a baby bear at a train station and named it Winnie, after his hometown of Winnipeg. The story just keeps getting better– you'll have to read it for yourself (and buy it for your little people). Sophie Blackall's illustrations are sweet and expressive. This is the feel good book of the season. Finding Winnie: The True Story of the World's Most Famous Bear by Lindsay Mattick
And for animal lovers with a compassionate heart, A Passion For Elephants tells about the life of Cynthia Moss– animal researcher, journalist and elephant advocate. After following a friend to east Africa Moss fell in love with the "enormous, gentle animals" and devoted her life to studying their behavior and relationships. Her active, courageous life is reinforced by the author's steady refrain that "Cynthia Moss is not afraid of BIG things," gently suggesting that young readers can be bold as well. Filled with rich mixed-media illustrations which evoke the splendor of Africa, this is a bold and positive way to introduce activism to young ones. A Passion For Elephants by Tony Buzzeo
Chapter Books for New Readers and Elementary School Kiddos
East Montpelier author Linda Urban never fails to deliver a well-crafted tale. This time we get to journey on a hilarious (and harrowing) adventure with a boy named Milo through a clothes dryer and into Ogregon, where buffoonish ogres and an evil mastermind plot to lure even more unsuspecting children into their trap. This wacky story works as a read aloud for 5-6 year olds, but is a perfectly paced, illustrated chapter book for emerging readers. Milo Speck, Accidental Agent by Linda Urban
I have a new, favorite spunky character in children's lit, and her name is Dory. Rhymes with fantasmagory– a dream-like state where real life and the imagination are blurred. Dory inhabits this state, much to the annoyance of her older siblings and the consternation of her parents. She has several imaginary friends. She is willful, hilarious and will charm the pants off you (if you aren't related to her, that is) Though this is a series perfect for kids just getting into chapter books (it has super pencil drawings that add to great effect) you will WANT to read it out loud. Dory Fantasmagory by Abbie Hanlon
Chapter Books Continued…
Another early chapter book long on charm by one of our favorite contemporary children's authors, Mo Willems tells the story of an unlikely friendship of a flea-ridden cat and a diva dog and how they open one another up to new ideas about their own lives. Set in Paris, there are delightful color illustrations by Tony DiTerlizzi. Again, this would make a wonderful read aloud to ages 4 up. The Story of Diva and Flea by Mo Willems
Three magical tales for middle grade readers (ages 10 and up) capture the mysteries of family, history and fate. The master of integrative storytelling, Brian Selznick, has a new book written in his signature innovative style called The Marvels, weaving together the story of a famous theater family in London with a modern tale of a runaway in search of his long lost uncle. The Marvels by Brian Selznick
Who doesn't want to believe in magic? Micah Tuttle dearly wants to believe that the fantastical stories his dying grandfather tells about a magical circus are true. And maybe if he can actually find the Man Who Bends Light, he can also save his grandfather. Micah's love for his grandfather and belief in the power of magic take him and his friend Jenny on a whirlwind adventure that is reminiscent of Peter Pan, but totally unique. Enthralling for ages 9-12. Circus Mirandus by Cassie Beasley

Another bold and enchanting story that spans continents and generations, Echo begins with a witch's curse on three sisters and travels, through the life of one harmonica, from pre-Nazi era Germany to Depression era Pennsylvania and then to WWII California. It is a sweeping narrative that examines the power of music to inspire beauty in a world overrun with fear and intolerance. Who doesn't need some of that? Echo by Pam Munoz Ryan
Graphica
Aptly named by screenwriter Joss Wheedon "the Adorable Epic", Space Dumplins is a cornucopia of wacky aliens, cool ships, and space junk, and at its heart is a tender portrait of a family just trying to get by. With its fully realized artistic vision, oddball humor, and fantastic story, this will appeal to those who loved, but have outgrown, the beloved Zita the Space Girl series. Space Dumplins by Craig Thompson
Lord Blackheart is a villain, Nimona is a shapeshifter. Together their mission is to prove to the kingdom that Sir Ambrosius Goldenloin and his buddies at the Institution of Law Enforcement and Heroics aren't the heroes everyone thinks they are. But
neither is Lord Blackheart nor Nimona. Short-listed for the National Book Award, web comic Noelle Stevenson has landed firmly on the shelves of indie bookstores and we hope she has a long writing life ahead of her. Nimona is complex, funny and refreshing for ages 11 and up. Nimona by Noelle Stevenson
Young Adult Fiction
Lizard Radio is a dystopian, gender-bending novel about being *you* against all peer or cultural pressure. It works it's magic through the bright young character of Kivali, also called Lizard by her friends, who was dropped on a doorstep as an infant. She has not only to figure out who she is and where she comes from, whether she is a follower or a leader, but also whether she should bend to the will of culture, and chose to manifest as either male or female, or simply stay herself and risk her own chance at success and safety. Highly recommended by Kim for ages 14 up. Lizard Radio by Pat Schmatz
I admit I was reluctant to pick up a large tome that looked to be the latest sound byte/media hype of the season. Ohhh…..how wrong I was. Illuminae is the first in a trilogy set in the year 2575. Earth is long gone and though Kady still has typical teenage problems like school and ex-boyfriends, her home is on planet Kerenza. All I can say is….strap yourself in for a wild ride. Using a non-traditional narrative form, the story is pieced together using illustrated screenshots of spaceship blueprints, interviews, data, and messages that make up the "Illuminae Files." This is hands down the crowd pleaser of the year. Ages 13 up. Illuminae by Amie Kaufman and Jay Kristoff
Last season I recommended Jackaby– a clever mystery novel set in post-colonial New England that contains some genre-bending supernatural elements. How pleased I was to discover that I equally loved its follow-up, Beastly Bones, a new mystery for Abigail Rook and her eccentric employer Jackaby, that delivers the same quirky humor and unforgettable characters– think Sherlock Holmes crossed with Buffy the Vampire Slayer. Ages 12 up. Beastly Bones by William Ritter,
A new fantasy from seasoned writer Leigh Bardugo (The Grisha Trilogy) is sure to appeal to teens who love intelligent and exciting fantasy. In an effort to pull off a seemingly impossible heist, a band of teenaged rogues and criminals unite under the leadership of notorious gang leader Kaz Brekker, one of the most dangerous and compelling anti-heroes in modern fantasy. Brimming with a cast of colorful characters readers probably shouldn't like but will end up loving, this is sure to leave readers clamoring for the next in the series. Recommended by Carrie for ages 13 up. Six of Crows by Leigh Bardugo
Gold Rush greed and retribution are the themes of two adventure filled books written for teens this holiday season. In both novels, the narrative features intelligent, resourceful, and determined heroines who take matters into their own hands when their worlds are turned upside down by men turned mad with goldlust. Vengeance Road is the grittier of the two, featuring gun-slinging eighteen year old Kate Thompson, whose father is murdered by the notorious Rose Rider gang. Disguising herself as a boy Kate pursues them with a single minded focus reminiscent of True Grit.
Walk the Earth A Stranger, the first book in a new trilogy, is set against the backdrop of westward migration and chronicles the adventures of fifteen year old Leah Westfall, who has a gift of gold divination. After her Uncle murders Leah's parents in the hopes of using her power for his own gain, Leah runs away and joins a wagon train headed to California. Disguised as a male laborer, Leah experiences the hardships of migration while trying to hide her secret gift of gold divining, her true gender, and her increasingly romantic feelings for her Cherokee childhood friend. Recommended by Carrie, Ages 13 up. Vengeance Road by Erin Bowman, and Walk the Earth a Stranger by Rae Carson
Jane Knight is the children's book buyer for Bear Pond Books in Montpelier, VT.
Featured image from Harry Potter and the Sorcerer's Stone: The Illustrated Edition by J.K. Rowling. Illustrated by Jim Kay / harrypotter.bloomsbury.com